SAN JOSE, CA – November 4, 2021– Interface Masters announces a new standard of computational offload processing hardware intended for artificial intelligence (AI) and deep machine learning applications.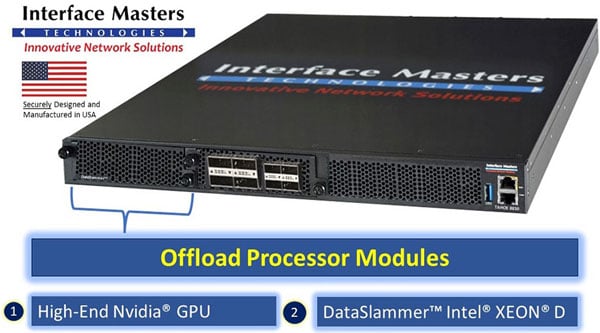 Tahoe 8830 with Available Artificial Intelligence Offload Processing.
All Interface Masters hardware is securely designed and manufactured in the USA with OEM-branded solutions designed and tested to the customers' precise requirements and ready for the OEM customers' intelligent software.
"The era of mass data acquisition and machine learning has arrived. This new era summons both opportunity and significant risk. Securely designed and manufactured equipment is now mission critical and producing advanced AI-based equipment overseas is no longer a safe option," says Ben Askarinam. "Interface Masters' US designed and manufactured hardware is never compromised and ensures game changing solutions for compute-intensive applications. Let us know if we can design your next artificial intelligence or machine learning hardware platform."
Interface Masters currently provides two options for offload processing, its proprietary Intel® Xeon®-D based DataSlammer™, as well as several off-the-shelf Nvidia® GPUs help to ensure system performance and allow the CPU to conduct critical functions without disruption.
The newest AI-based offering is capable of 2,496 TFLOP calculated data transfer offload (a teraflop, TFLOP, processes one trillion floating point operations per second).
Long Product Life Cycle
Interface Masters network appliances and switches benefit from a long-lasting product life cycle, which enables continuity through all phases of product rollouts and servicing.
Designed and Manufactured in the United States / About Us
For over 26 years, Interface Masters Technologies has provided custom and off-the-shelf innovative networking solutions to OEMs, Fortune 100, and startup companies. Headquartered in Silicon Valley, we proudly design and manufacture all products here. Based on MIPS, ARM, PowerPC, x86 processors, and switch fabrics up to 12.8T, Interface Masters appliance models enable OEMs to significantly reduce time-to-market. All solutions are reliable, pre-tested, pre-integrated and support a seven-year long-life cycle. Learn about Interface Masters: www.interfacemasters.com.
Media Contact:
Mark Wilson
Marketing Manager
markw@interfacemasters.com