SAN JOSE, CA – November 18, 2020 – Interface Masters introduces Tahoe 8830, a 1U networking appliance for enterprise applications, and the newest addition to their family of ARM-based solutions. Selecting the industry-leading Marvell OCTEON TX2 CN9880 processor with 36-core ARM64 processor technology for the final design set the stage for the overall success of the appliance. All coprocessors, including crypto, deep packet inspection, compression, and integrated high-throughput Ethernet, are capable of support application and I/O virtualization for VM and containerized applications. The co-processors are all DPDK API enabled and the SDK supports extensions for kernel and user plane additions. The CN98xx specifically features a new Cha-Cha-poly cipher that enables TLS1.3 needed for up to 200G of SSL flows. The OCTEON DPU SDK also enables a common software umbrella that can support other Marvell devices such as Switches, NICs , storage controllers and PHYs.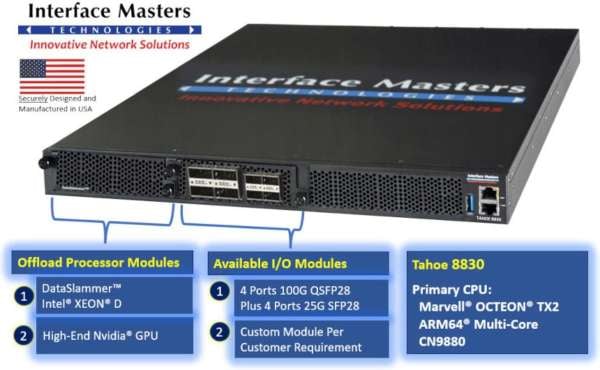 Enterprise-ready Tahoe 8830 1U Networking Appliance

In standard configuration, Tahoe 8830 includes a Trusted Platform Module (TPM), Precision Time Protocol (PTP) support, as well as strategically placed temperature sensors.
This flexible, advanced appliance meets the needs of many market applications including: SSL/IPSec offload processing, 5G and 4G gateways, Network Security Appliance, Network Function Virtualization (NFV), Unified Threat Management (UTM), Intrusion Detection Systems (IDS), Data Loss Prevention (DLP) and other compute intensive applications.
Designed and manufactured in the USA, the Tahoe 8830 network appliance compliments Interface Masters' growing portfolio of ARM-based appliances. Tahoe 8830 features 4x SFP28 and 4x QSFP28 I/O interfaces in addition to USB3.0 and front facing SD card. It comes equipped with two 550W dual-redundant hot-swappable power supplies and four standard dual-stack fans. Additionally, support for the Marvell SDK on multiple Linux distributions is provided along with Layer 1 and 2 support and availability of software application development capabilities. Complete full suite certifications are standard on all Interface Masters appliances.
"We at Interface Masters believe that Marvell's new OCTEON TX2 CN9880 processor represents a significant leap forward for ARM64 based technology," notes Ben Askarinam, Interface Masters' Founder and CEO. "The CN9880 CPU is a deep packet inspection 36-core powerhouse. All coprocessors, including crypto, deep packet inspection, compression, and integrated high-throughput Ethernet support application and I/O virtualization."
Long Product Life Cycle
Interface Masters network appliances and switches benefit from a long-lasting product life cycle, which enables continuity through all phases of product rollouts and servicing.
Designed and Manufactured in the United States / About Us
For over 25 years, Interface Masters Technologies has provided custom and off-the-shelf innovative networking solutions to OEMs, Fortune 100, and startup companies. Headquartered in Silicon Valley, we proudly design and manufacture all products here. Based on MIPS, ARM, PowerPC, x86 processors, and switch fabrics up to 12.8T, Interface Masters appliance models enable OEMs to significantly reduce time-to-market. Our solutions are reliable, pre-tested, pre-integrated, long-life appliances that meet the most challenging networking requirements. Learn more: www.interfacemasters.com.
*All third-party trademarks are the property of their respective owners.
Media Contact:
Mark Wilson
Marketing Manager
markw@interfacemasters.com